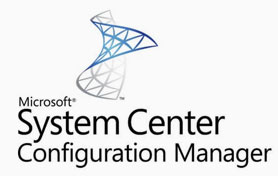 In this training you will learn how to plan the SCCM, build, capture, deploy and manage an OS image, deploy applications and software updates, manage client agent settings, manage hardware and software inventory, Microsoft System Center Endpoint Protection etc.
This training is based on Administering System Center Configuration Manager certification exam 70-703 syllabus.
Get this offline study kit and start your study as soon as possible.
Intended Audience:
Student should have 1-2 years experienced in Windows Server Administration
Following hands-on knowledge is required:

Active Directory management
Managing Server and clients
Networking services like WSUS (patch management), WDS (OS deployment) and basic configuration of DNS, DHCP, File Server, etc.

Recommended prerequisites training: Windows Server administration.
Course content and exam details:
Please click on the
syllabus tab above
We are covering the some of the exam objectives required to pass the Microsoft
Exam 70-703: Administering Microsoft System Center Configuration Manager and Cloud Services Integration
. List of topics we are covering:
Sr.
Details
1
Installing System Center Configuration Manager

Plan System Center Configuration Manager hierarchy and site system roles.
Installing SCCM Current Branch

2
Manage Configuration Manager clients

Deploy SCCM the client agents
Manage client agent settings
Manage collections
Configure and monitor client status

3
Manage inventory and reports

Manage hardware and software inventory
Configuring SQL Server reporting Services (SSRS)
Implementing reporting service role
Create reports

4
Configuring Compliance Settings, profiles and Remote Control

Overview of Compliance Settings
Creating Configuration Item and Compliance Baseline for devices
Configure compliance detection and remediation method
Viewing Compliance Results
Configuring Power Management Settings
Configuring Remote Control

5
Implementing System Center Endpoint Protection (SCEP)

Overview of Endpoint Protection in Configuration Manager
Installing SCEP client agents
Configuring and Monitoring Endpoint Protection Policies

6
Manage Operating System Deployment (OSD)

Configure the OSD environment.
Deploy an image
Manage images

7
Deploy Applications

Deploy and manage applications
Monitor application deployment
Manage the software library and application catalog.
Manage content distribution

8
Plan and implement software updates

Monitor software updates.
Deploy software updates by using Configuration Manager and Windows Server Update Services (WSUS)

9
SCCM Site maintenance

Configuring site maintenance and backup activities
Microsoft SQL server database backup
Site recovery options
Exam details:
All Microsoft exams are online and available at Pearson VUE exam centers.
Exam pricing is $165 per exam. In India current Microsoft

exam fee is Rs. 4800/- per exam

. Worldwide it may vary.

Total exam is of 1000 marks

and you need to earn 700 marks to pass the exam.
You will

get 45 to 55 questions

in an approximate 2-2½ hours of duration and may change per exam basis.

Exam formats and question types

: Mostly single or multiple choice, drag and drop, repeated answer choices, etc. To understand and view video demos, please » visit http://microsoft.com/learning
» Click here to view current exam offers if available!